Everybody wants to keep their iPhones up and running without experiencing any problems or interruptions. However, one of the common problems reported by iOS users is "my iPhone keeps showing the Apple logo and turning off". New, as well as old iPhone users, tend to experience this issue.
Please keep in mind that there can be several reasons behind the problem. It could be a busy server, low storage space, or software bugs. In addition to these causes, a low battery can also create this issue. It is recommended to keep your iPhone's battery above 50% in any case if you like your iPhone to perform optimally. Luckily, you can try some fixes to resolve the problem yourself or use an iOS system repair software like Tenorshare ReiBoot.
How to fix iPhone shows Apple logo then turns off
Method 1: Charge your iPhone
The problem of the iPhone turning on and off by itself is commonly associated with battery or charging issues. Before trying out any other method, it is recommended to properly charge your iPhone up to 80% and then use it. If you have good battery health, it will probably fix this issue.
Method 2: Force Restart
When dealing with problems such as when your iPhone keeps turning on and off, one of the first things you should try is to force restart your iPhone. It could possibly resolve the issue if your iPhone is experiencing any start-up or bugs issue.
Please note that different iPhone models have different ways of force restarting.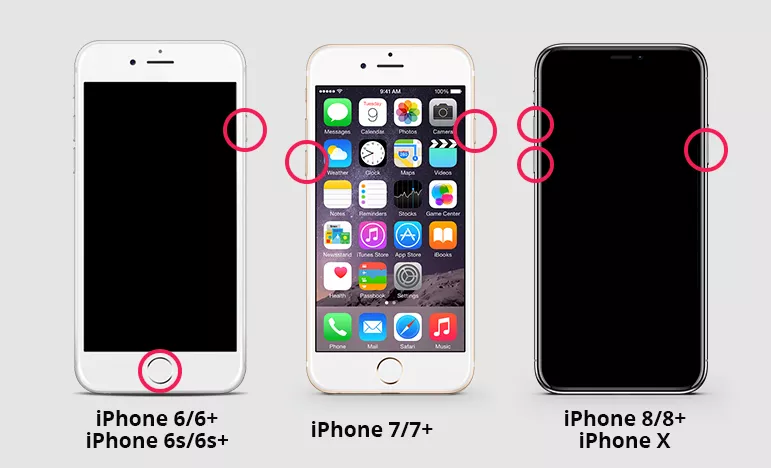 Here's how you can do it on different iPhones.
On iPhone 8 and later – You need to press and quickly release the "Volume Up" button. Then press and release the "Volume Down" button. Now, press and keep on holding the Side button until your iPhone's screen goes off. After that, the Apple logo will appear on the screen and it will boot up.
On iPhone 7 and 7 Plus – Press and hold the "Sleep/Wake" button (on the right side) and the "Volume Down" button simultaneously until the Apple logo appears on your screen.
On iPhone 6, 6s, and earlier – Press and hold the "Home" button as well as the "Power" button. Continue to hold them until you see the Apple logo.
Method 3: Restore iPhone using ReiBoot iOS System Recovery
This method comes in handy when other methods fail. You can fix iPhone stuck on the Apple logo problem without any data loss using ReiBoot iOS system repair. This software will help you in fixing iOS system issues without data loss and with a lot higher success rate.
Follow the below instructions to fix an iPhone that keeps showing the Apple logo and then turns off using Tenorshare ReiBoot.
Download and install ReiBoot iOS system repair on your PC.
Connect the iPhone to your PC using a cable. We recommended using Apple's original Lightning cable.
ReiBoot will automatically recognize the connected device and set it for use. Click the 'Start' button to proceed.
Select the "Standard Repair" mode.
Now you need to download the firmware package. Click the "Download" button to automatically download the relevant iOS firmware for your iPhone.
Once downloading is over, click on "Start Standard Repair". ReiBoot will now start fixing your device. DO NOT disconnect your iPhone during the repair process.
Once repairing is done, a 'Standard Repair Completed' message will appear on the screen. The device will restart and your iPhone should be back to normal.
Video Tutorial
Pricing & Plans:
Available for Windows and Mac, the free trial of ReiBoot lets you enter and exit the recovery mode on all iOS devices without any limitation. You however need to purchase a license to unlock other premium features offered by the program. Its 1-year license costs $35.95 for Windows and $49.95 for Mac which supports 1 PC/1 Mac for up to 5 devices. You can also opt for a monthly or lifetime license, depending on your need.
Method 4: Restore your iPhone with iTunes
The problem when your iPhone keeps showing the Apple logo could also be resolved by restoring your iPhone via iTunes. However, this method will cause data loss if you don't already have a backup to restore later.
Here's how you can restore an iPhone through iTunes.
Connect your iPhone to a PC or Mac with the Lightning cable.
Put your iPhone into recovery mode. TIP: Use ReiBoot to easily enter recovery mode.
You should now see the 'Connect to computer or iTunes' screen on your iPhone. This implies that the device is in recovery mode.
iTunes or Finder (on macOS Catalina and Big Sur) will now show a prompt to either Update or Restore the iPhone.
Click the "Restore" button and follow the on-screen instructions.
Method 5: Contact Apple Support
If you're unable to fix your iPhone using any of the above-listed methods then there might be a hardware issue. In such a case, try reaching out to Apple Support and ask them to restore your iPhone or propose a suitable solution to fix your problem. You can contact through Apple's official website or look offline for an Apple Authorized Service Provider.
Conclusion
iPhone keeps showing the Apple logo but won't turn on is a common problem that most iPhone users face. It can be annoying as users are unable to use their iPhones normally.
In this guide, we shared some of the common causes and solutions to fix this issue without any hassle. By following them, you should be able to fix the issue by yourself. However, the simplest way is to force restart your iPhone as mentioned in method #2. If the issue persists, we recommend trying ReiBoot iOS system recovery and it should surely resolve the problem.