Today, when I was installing Steam client by Valve to download the free Alien Swarm game, Steam showed an error saying "Steam is temporarily unavailable, please try later" while updating steam automatically after install. This error prevented steam from installing successfully.
This problem is generally caused because steam connects to its server nearest to your location, which might be temporarily not working.

Fortunately, Raymond has posted an interesting and helpful tutorial a day ago which describes how to get rid of this issue. All we need to do is manually change the server location, which steam uses to update itself. Follow the steps below carefully:
1. Download ClientRegistry Toolkit
2. Extract and run SteamRegEdit.exe
3. Go to File > Open and browse to C:\Program Files\Steam\ and open the file named 'ClientRegistry.blob'.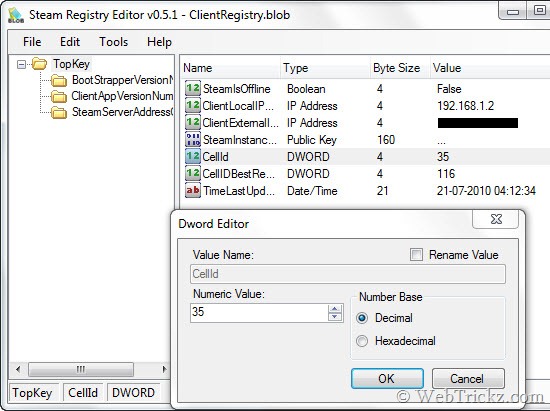 4. Double-click the entry CellId, shown in the right pane and change its numeric value to anywhere between 1-90. This will change the region to which steam connects. Some valve servers are listed below:
1 – 209.197.20.99 (US)
2 – 69.28.153.106 (US)
3 – 69.28.153.106 (US)
4 – 87.248.209.138 (UK)
5 – 95.140.224.26 (UK)
6 – 213.8.254.150 (Israel)
7 – 194.124.229.17 (Germany)
8 – 118.107.173.24 (Korea)
9 – 203.66.135.28 (Taiwan)
10 – 69.28.151.27 (US)
5. After modifying the value, select Yes to confirm and change the value.


Now run Steam and it will update and install without any issues.