FLocker is a free and easy to use program, which allows users to Password protect files and lets you view them without requiring any external applications.
With FLocker, you can encrypt a file, then give it to a friend, and they will be able to view the file with no external applications.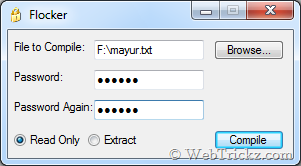 To use it, just run FLocker and browse to select the file to compile. Enter your desired password, choose Read only or Extract option and click Compile. FLocker will save the encrypted file on the desktop.
Our Verdict: 3/5 (Good) I found the program quite useful and handy.
Download FLocker (Portable version also available)