Recently, Panda Security announced the launch of their new 2012 consumer security products for homeusers. Panda Security has now come up with an exciting promotion which easily offers a Free license of New Panda Antivirus Pro 2012 for 6 months.
Panda Antivirus Pro 2012 offers the easiest and most intuitive protection for your computer ever. Install it and forget about viruses, spyware, rootkits, hackers and online fraud. Chat, share photos and videos, do online shopping and banking, read your favorite blogs or browse the web with total peace of mind and without interruptions.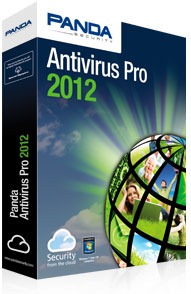 Features:
IMPROVED! Protection against all types of viruses and threats
IMPROVED! Collective Intelligence – A new threat is identified and in a matter of seconds all Panda Security's customers worldwide are protected.
IMPROVED! Personal Firewall – Firewall with Wi-Fi security that blocks intruders and hackers, even in your wireless network.
IMPROVED! Panda USB Vaccine – protects your PC and USB drive from infection.
PLUS! Panda Safe Browser (Sandboxing) – Suspecting that a website is dangerous? Access it without risk through the Safe Browser.
Live up-to-the-minute updates – Combined Collective Intelligence and traditional signature updates protects you against the newest and most dangerous threats with minimum bandwidth usage.
IMPROVED! Panda SafeCD – Clean all types of malware from your computer if you cannot start Windows.
Supported OS: Windows 7 (32-bit and 64-bit), Windows Vista (32-bit and 64-bit) and Windows XP (32-bit)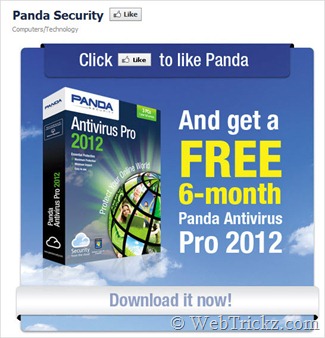 To grab a Free 6 month (180 days) OEM license of Panda Antivirus Pro 2012, just visit Panda Facebook fan page at facebook.com/PandaUSA and click the 'Like' button. The Download it Now! button will turn green and you can then download the installer. Alternatively, if you don't have a Facebook account then use the direct download link (http://acs.pandasoftware.com/marketing/promo/AP12_Facebook.exe) to get it. 🙂