AVG Internet Security 2013 is an award-winning protection suite for Windows that protects your identity when doing online tasks such as shopping, banking, browsing, email, social networking and more. AVG IS 2013 also protects your personal data from hackers and offers faster scan and video streaming experience. It includes all the features of AVG AntiVirus 2013 thus to protect your system against viruses, threats and other malware. AVG provides a 30-day trial for their products and 1 year subscription of AVG Internet Security costs $54.99.
Luckily, you can grab a Free 180 days license of AVG Internet Security 2013 without crossing any hurdles. This is due to an exclusive promo meant for PC FORMAT readers from Poland but anyone can avail it. Steps down below:
AVG Internet Security 2013 Features –
Detects and stops viruses, threats and malware – Includes: AntiVirus, AntiMalware (AVG Resident Shield), AVG Anti-Rootkit, AVG Email Scanner, AVG Protective Cloud Technology, AVG Community Protection Network, AVG LinkScanner Surf-Shield, AVG Social Networking Protection
Stops unsecure links and files – AVG Online Shield
Prevents online spam and scammers – AVG Anti-Spam
Prevents spying and data theft – Includes: AVG Do Not Track, AVG Identity Protection, Anti-Spyware, AVG WiFi Guard
Stops hackers getting to your personal data – Ultimate protection for credit card numbers, bank details or other personal information. With AVG Enhanced Firewall
Helps ensure a smooth and fast running PC – AVG Turbo Scan, Game Mode, AVG Smart Scanner
Accelerates web experience with AVG Accelerator
Easy-to-action advice and alerts – Incudes: AVG Advisor, Easy Interface, AVG Auto-Fix, AVG Auto-Updates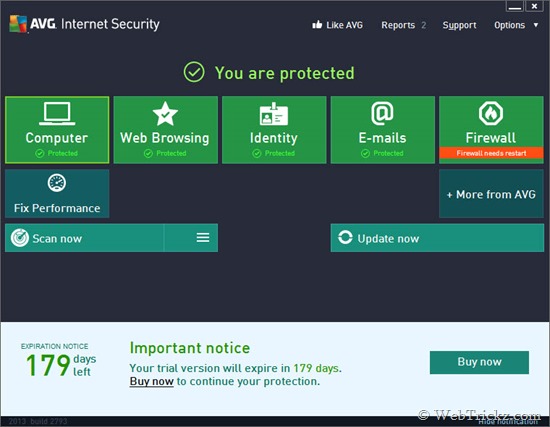 Get AVG Internet Security 2013 Free for 6 months –
1. Download & Install AVG Internet Security 2013 for Windows (Trial version)
— Links Removed —
2. During installation, enter the below license number when prompted.
AVG 180 days License Key – Removed
~ You can also activate after installation from Options > Activate.
Enjoy Free AVG Internet Security for 180 days! 🙂
Disclaimer: The above stated license key is Not illegal or a pirated one. The serial key is from a promo which apparently provides the same license code to all users.