Free 90 days OEM License of Norton Internet Security 2011
We've previously shared the 90 Days Free Trial of Norton Internet Security 2010. ING DIRECT has partnered with Symantec to bring you a special offer, providing Free 3-months OEM license of Norton Internet Security 2011, which is the latest version. Download now and use NIS 2011 Free for 90 days!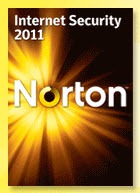 Norton Internet Security 2011 provides powerful protection that lets you email, surf, shop and bank online without worrying about cybercrime or slowing down your PC.
Compatible with Windows XP, Vista and Windows 7
Download Norton Internet Security 2011 [90 days OEM Subscription]
This is an OEM version which does not requires any activation key or registration. Just visit the above link and download the direct installation file. Install it and Enjoy!
Also See: Free 90 days Trial of Norton AntiVirus 2011 [OEM Installer]