The latest and new version 5.0 of Norton 360 was recently released by Symantec. Norton 360 Version 5.0 costs $79.99 offering 1 Year Protection for up to 3 Home PCs. But if you want to try it out first before purchasing your copy, then you can download a Free 90 days (3 months) Trial of Norton 360 v5.0 officially from Symantec Corporation.
Symantec's Norton 360 security software offers proven performance. It delivers fast and light all-in-one solution to protect your PC and all your online activities. It protects against viruses, worms, hackers, and botnets. With a single subscription, up to three PCs are protected. It safeguards against online identity theft, protects important files, and keeps your PC tuned and running at peak performance.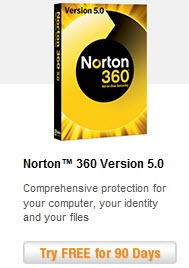 Norton 360 Version 5.0 Benefits:
Protects your PC, online activities and your identity
Defends against digital dangers without sacrificing performance
IMPROVED! Scans only files at risk for shorter, faster scans
NEW! Provides unprecedented and unmatched threat detection
NEW! Warns you of dangerous downloads
IMPROVED! Makes online shopping safer
IMPROVED! Protects your identity when you buy, bank or browse online
IMPROVED! Keeps spam out of your mailbox
NEW! Helps you improve and maintain PC and application performance
Prevents botnets from taking control of your PC
Delivers up to the minute virus protection
IMPROVED! Protects your important files from loss
NEW! Lets you access backed up files over the Web
IMPROVED! Reduces PC start-up time
Defends your wireless network from intruders
Helps make your PC run like new again
Download Norton 360 Version 5.0 [90 days OEM Subscription]
This is an OEM version which does not requires any activation key or registration. Just visit the above link and download the direct installation file. Install it and Enjoy!