Screenshots are really useful as they show the exact image captured from the computer. Personally, I recommend SnagIt to capture screenshots, videos with advanced features. But it costs you a $49.95 to use its full version. So, I've found a free alternative which is very similar to SnagIt and is easy to use.
Screen Capturer is a free and easiest tool for capturing screenshots and demos from your desktop. It makes capturing, printing and emailing screenshots too easy. Use the "PrtScr" (print screen) button on your keyboard to capture screenshots with multiple options.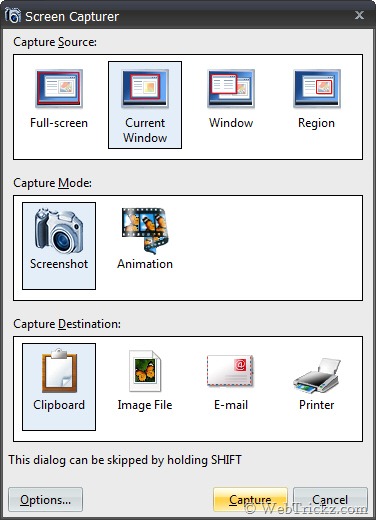 Screen Capturer also captures sequences of screenshots as animated demos that you can email to others or put on the Web. Keyboard shortcuts are also available to make task easier.
Screen Capturer Features:
Capture Full Screen, Current Window, Selected Window, Region
Save captured images in BMP, JPG, GIF, PNG and TIFF formats
Saves captured demos in the popular WMV (Window Media Video) format
Creates new email with captured image attached
Allows pasting captured images directly into email body
Easily and instantly accessible via [PrtScr] button