Evernote has acquired the interesting Mac app 'Skitch' and apart from making the app absolutely Free for Mac, evernote has also launched Free Skitch app for Android. Skitch for Android is a fun, amazing and a great app that allows users to take snapshots, annotate images, make sketches, and share them easily directly from their mobile.
Skitch is a perfect app to easily and quickly take a snapshot of something or open a saved image to add some cool and meaningful stuff to it. The app has a very simple and nice user interface with a variety of essential features and settings to customize the photo as desired without requiring any technical knowledge. This is just the first version of Skitch for Android which would be improved and enhanced later in future.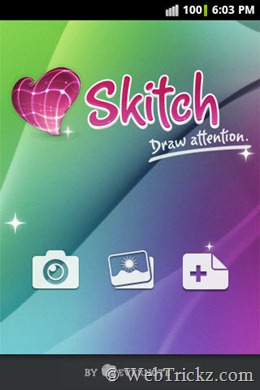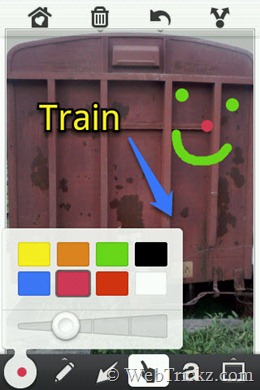 Skitch home screen offers 3 options: take a snapshot, load an image from your gallery or start with a blank canvas. Take a snapshot, then draw an arrow or add a caption and share it instantly on social networks like Facebook, Twitter, Google+, etc. There are two rows of options in the app namely: the action bar and the tool bar.
The Action Bar includes:
Home: This returns you to the home screen.
Trash: Either erase a selected object or clear the whole screen by tapping and holding the option.
Undo/Redo: Step back or forward through your annotations.
Share: Share the annotated image with other apps installed on your device.
Send to Evernote: This option shows up when you have Evernote installed.
The Tool Bar includes:
Color and size popover: Tap this option to choose the color and line thickness of your objects.
Pencil and highlighter: The pencil allows you to create freehand shapes with your finger or stylus. Tap and hold to reveal the highlighter tool which creates semi-transparent lines for highlighting.
Arrow: Point out the best stuff with the arrows Skitch is known for.
Select: Tap on any object, then drag it to change its position.
Type: Use this tool to add text to your images.
Shape: Tap and hold to choose a shape, then drag your finger on the screen to create it.
Tap the menu button and select 'Settings' to access some advanced settings, including highlighter opacity and scaling.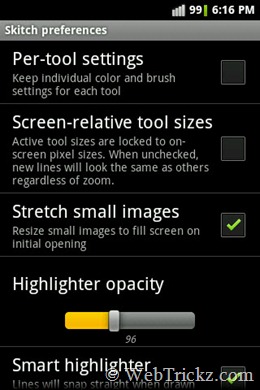 Evernote is working to bring Skitch to iPhone, iPad and other major platforms.
Download Skitch for Android    via  [Evernote Blog]
Also See: Evernote Acquires Skitch, Get Skitch App Free for Mac