Free Tool to Browse, extract and manage Icon libraries
Icon Explorer allows to completely manage icon libraries (ICL), standalone icons and executable that contains icons as resources. It supports 32-bit icons too. It has powerful searching tool that searches specified path with directory recursion and examines any file if it contains any icon and then extract it. Icons can be saved as icons, individual icon images or bitmaps.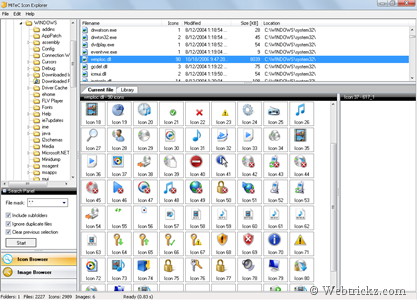 It is able to browse and display other image files of many formats.
Standard Windows icons (*.ico)
Windows (Enhanced) metafile images (*.emf, *.wmf)
Photoshop images (*.psd, *.pdd)
Portable network graphic images (*.png)
JPEG images (*.jpg; *jpeg)
Download Icon Explorer    [ Supports All Windows ]