Tweaks.com Logon Changer for Windows 7 provides an easy way to customize the logon screen background with just a few clicks. Using logon changer is very simple to use.
Simply download the free application, run it and click Change Logon Screen.
The application will prompt for the location of the new background image and then install the new screen behind the scenes.
Tweaks.com Logon Changer will even provide a preview of your new background on a logon screen.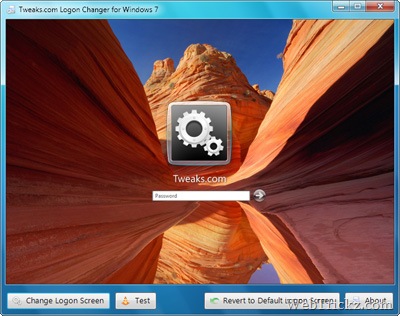 When you have settled on a good logon background, click the Test button to see it in action. Make sure that the background image you select is smaller than 256KB, otherwise it will be rejected because of a size limitation set by Microsoft.
You can also Revert to Default Windows 7 Logon Screen and the application will automatically uninstall any customized screens.
Download Windows 7 Logon Changer   (242KB)     via   [ BlogsDNA ]