Aero peek is a nice feature integrated with Show Desktop button in Windows 7. Clicking on 'Show desktop' brings the desktop screen whereas it shows the icons, gadgets, and anything else on Window 7 desktop, with a simple move of your cursor over that little transparent rectangle, located in the lower right corner of Windows 7 taskbar.
Windows Vista and XP users can easily get and use both the 'Aero peek' and 'Windows 7 Show desktop button' on their system using a simple tool. 'Show Desktop' is a small standalone application that creates a small rectangular button at the right side of task bar, next to the clock, which, when clicked, minimizes all open windows or temporarily makes them transparent so the user can "peek" at the desktop.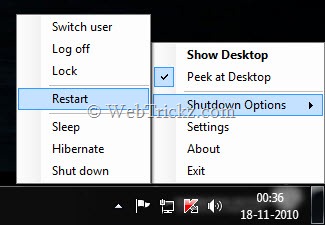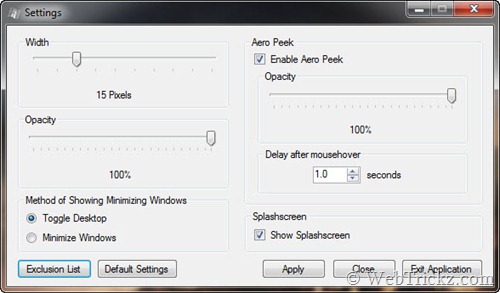 It provides option to change program settings like the button size, opacity, delay time, or the way how windows are minimized. A menu is displayed on right-clicking the button to easily shutdown, restart, standby, hibernate, logoff or lock the computer.
I tried this tool on Windows 7 and it worked really great. Deserves a try!
Download Show Desktop (257 KB)   via [door2windows]