Angry Birds has finally arrived to play online on web via Google Chrome, the browser with efficient capabilities like WebGL and hardware acceleration to power this amazing game. Angry Birds Beta web app for Chrome is now available on Chrome web store and is absolutely Free. The game comes in two versions – SD version and HD version. It stores the data on your computer so that you can play the game offline too.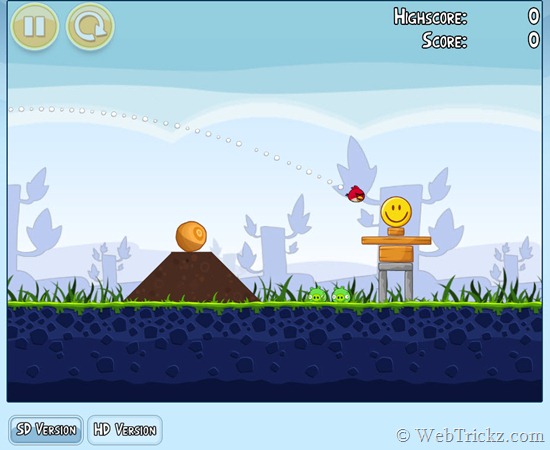 **** Surprise! New exclusive Chrome levels ****

The survival of the Angry Birds is at stake. Dish out revenge on the green pigs who stole the Birds' eggs. Use the unique destructive powers of the Angry Birds to lay waste to the pigs' fortified castles. Angry Birds features hours of gameplay, challenging physics-based castle demolition, and lots of replay value. Each of the 70 levels requires logic, skill, and brute force to crush the enemy.
You can now play Angry Birds on the web! Go check out the game in glorious high definition resolution on the Chrome Web Store:

This is only a beta release of the game, and so far we have 63 levels of the original game available, with an additional 7 special Chrome levels! We are working on bringing more levels to Chrome, and planning on making the Mighty Eagle available as an in-app purchase option.
The Angry Birds specialised for Chrome has something new – It adds some exclusive levels that features chrome button as rocks, chrome logo in clouds and flowers, chrome bombs, offers really great graphics (Full HD), and runs very smooth on most modern computers. So, just install the Angry Birds game extension app on your Chrome browser and you're set to play this highly addictive and fun game from any place, without requiring any touchscreen devices. Do share your experience here!
Link: Angry Birds Chrome App