BB FlashBack Express is a free screen recorder software with multiple functionalities. It uses different way of recording the screen than other screen recorder programs. It can produce high frame rate recordings with minimal impact on PC performance even on older PCs and netbooks.
BB FlashBack Express was previously sold for $39, but now its a freeware.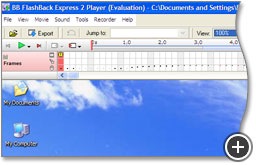 BB FlashBack Express Features:
Record a window, region or full screen and webcam videos.
Share movies with one-click upload to Youtube and other video sharing sites
Save recordings in Flash or AVI formats with full control over file size and quality.
Vista Compatible – Capture Vista's 'Aero' effects.
Uses a custom compression engine, which give you fantastic quality movies but at a tiny size.