Get Best Prices for Electronic Products on WhatsApp with MySmartPrice New Initiative
MySmartPrice, the popular price search and comparison engine has now launched a new service that allows users to quickly find prices for electronics and smartphones directly using WhatsApp, a widely popular cross-platform messenger. Recently, MSP also introduced a nifty tool to automatically add Xiaomi Redmi 1S phone to Flipkart's cart using a Chrome plugin. To avail price comparison feature on WhatsApp, users need to add MySmartPrice WhatsApp Number: 9332222222 to their WhatsApp contact list and then simply text the number with the product name. You will instantly get the appropriate results stating the best price available for that product. The attached web URL reveals more details such as specifications and price comparison about the product as available across various Indian e-Commerce sites.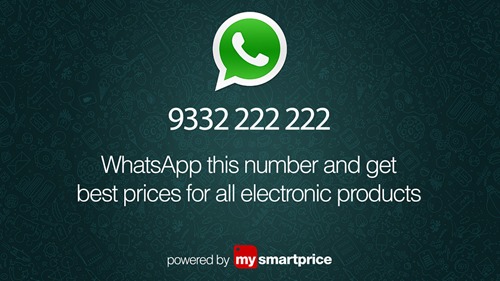 This new initiative by MySmartPrice comes handy and is way convenient for users on the go with slow Internet connections. The feature is apparently based on a non-official WhatsApp API. Currently, users can search for price of electronic products only but more categories will be reportedly added soon. Personally, we're really impressed with this feature as it helps us figure out the lowest available price for smartphones and other electronics just by texting the product name like 'iPhone 5S'. The results are immediate, you can check them anytime on WhatsApp while chatting or travelling without any extra efforts! Certainly, a very useful price comparison tool that would most likely help offline buyers to do a quick price comparison with online retail stores, before making purchases from a brick-and-mortar store.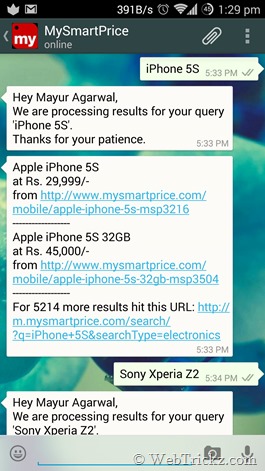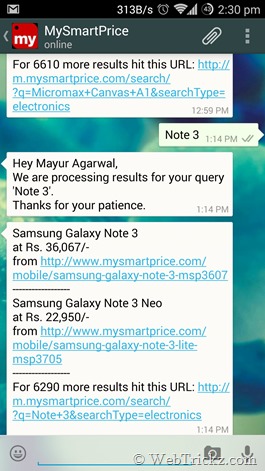 To Get started, simply add MySmartPrice WhatsApp number: +91 9332 222 222