I personally use EASEUS Partition Master Home Edition (Free) because it is easy to use, powerful and full-fledged partitioning tool for Windows. But you can now get "EASEUS Partition Master 6.1.1 Professional Edition" worth $39.95 absolutely Free, according to a giveaway led by Easeus. The Master Pro edition has many extra features and mainly has support for Windows 32 & 64-bit OS, Windows Server 2000, 2003, 2008.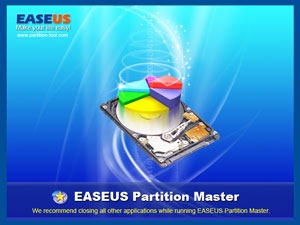 EASEUS Partition Master PRO Edition allows you to extend partition, especially for system drive, settle low disk space problem, manage disk space easily on MBR and GUID partition table (GPT) disk under Windows 2000/XP/Vista/Windows 7 (both 32 bit and 64 bit). The most powerful hard disk management functions are brought together including Partition Manager, Disk & Partition Copy Wizard and Partition Recovery Wizard. Moreover, you can create a bootable CD/DVD in case of system boot failure.
Overview
Extend system partition to maximize computer performance.
Partition Manager utility for better hard disk management and computer performance maximization.
Copy Wizard to copy partition or migrate entire hard disk to another without Windows system reinstallation.
Partition Recovery Wizard to recover deleted or lost partitions.
Support GPT volumes – GPT disk partitioning, GPT disk copy, etc.
Convert dynamic disk to basic disk easily with all data protected.
Download it for Free now from the Giveaway Page.
* The offer is for a limited time and ends on 22nd Oct 2010.