Kaspersky is one of the best security software that offers your PC maximum protection against serious attacks caused by viruses, trojans, malware, phishing, etc. Kaspersky products are very popular and effective, and that's the reason we barely see Kaspersky related promos. Fortunately, here is one which can easily provide you a Free 3 months license of the powerful Kaspersky Internet Security 2012 (KIS 2012).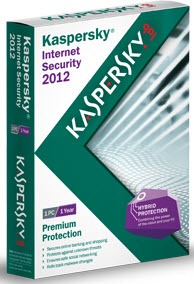 Kaspersky Internet Security 2012 delivers premium protection from viruses, Trojans, spam, hackers and more. Whether you're banking, shopping or social networking online, you can have complete confidence that your account details are secure, you won't stumble onto dangerous websites and you'll only receive safe messages from your friends.
The 90 days trial license of KIS 2012 is being offered by Kaspersky Labs Germany at their Facebook fan page. To grab the license, you don't need to register! Just visit their fan page and click the 'Like' button. Then you'd be able to download Kaspersky Internet Security 2012 that has a 90-day trial license integrated. (It's a German installer)
Alternatively, you can download it using the DIRECT LINK (German language setup)
It's said that the license code also works with English version of KIS 2012. Instead of downloading the above installer, use the below activation code to activate Kaspersky Internet Security 2012 Free for 90 days.
Code: QCGUH-J8FF6-33WGA-UBY62 (from German installer)
Download KIS 2012 English Installer here.
Update – You can't use this key if you've already used the trial version.
via [Raymond]
~ Visit here to get the official Free 60-Day Trial of Kaspersky Internet Security 2012.