Sony India has high plans and targets 40% share of Flat Panel TV segment during the World Cup 2011 season from January to March. Sony India has sales expectation of 2.5 lakh units for World Cup 2011. An insight of Sony India activities is shared below:
Sony is the 'On-air Broadcast Sponsor' on ESPN Star Sports which will provide Live HD feed for Cricket World Cup
Promotes Full HD BRAVIA range that includes 20 models of Full HD 3D, Full HD LED and Full HD LCD TV
Signs Mr. Mahendra Singh Dhoni as Brand Ambassador for Sony Full HD TV to promote 'The Incredible Game in Sony High Definition' campaign
Allocates Rs.100 crore towards multi-media campaign including ATL & BTL activities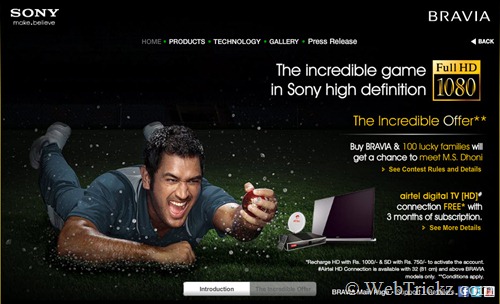 'The Incredible Game in Sony High Definition' campaign has 2 exciting offers:
A) Buy Sony BRAVIA & 100 lucky families will get a chance to meet Mr. Dhoni.
B) Sony India has also associated itself with Airtel through a consumer promotion. They are offering a Free Airtel HD DTH connection on purchase of BRAVIA Full HD TVs or a Airtel Digital TV connection when you buy a HD ready BRAVIA. The offer is valid from 28th January 2011 till 15th April 2011. Both the DTH connection comes with a free 3 Months subscription. You need to Recharge Airtel HD with Rs. 1000 and SD with Rs. 750 to activate your new Airtel DTH account.
Read full details about this promotional scheme.