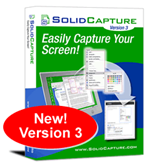 Solid Capture is a Screen Capturing and Image Sharing Toolkit, which gives you the power to capture multiple full screens, multiple windows, drop-down menus, colors, and even text right from your screen.
It can even Edit, format, and share your captures. You can even create your own PDF containing your selected captures. Solid Capture's simple design allows you to effortlessly capture your screen, sort and select previous captures, edit, print, and share with ease.
Solid Capture offers a 30-day trial and must be purchased for full use. Its full version is worth $29.95.
You can get a full version license code of Solid Capture by following steps below:
Go to this page and register there using a working e-mail address.
After registering, you will be sent an unlock code to your  e-mail.
Download Solid Capture (Size: 4.89 MB)
Now enter the license code received to activate it.
Enjoy! Full version of Solid Capture absolutely Free.