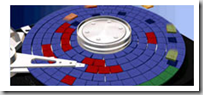 Total Defrag 2009 is a product by Paragon for total file system defragmentation and optimization. It performs complete low-level defragmentation which provides almost zero fragmentation level.
It speeds up and optimize all critical system files and metadata including MFT (Master File Table), directories, paging files, registry hives and others.
Total Defrag 2009 Features:
Online/Offline defragmentation of disks/volumes including RAID systems
Defragmentation of GPT disks as well as MBR disks and dynamic volumes
Two defragmentation modes: Fast and Safe.
Unique low-level file system defragmentation and optimization algorithms
9 different defragmentation strategies
Boot-time defragmentation of critical system files
Ability to speed up launch of applications and maximize file system performance
Low free space defragmentation (less than 1% of free space on the hard drive required)
Bootable CD image with "run-from-CD" edition included
You can get a Free license serial of Total Defrag 2009 worth $29.95
Simply follow the steps below to get one for you:
Visit this page http://www.paragon-software.com/registration/td2009.html
Fill out the registration form and enter a working email address.
After submission you will receive an email, with the activation code in it.
Download Total Defrag 2009 and activate it using the serial key received.
Enjoy Full version of Total Defrag 2009 absolutely FREE !