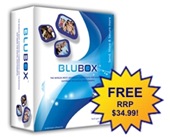 Blubox is a quick and easy-to-use software application for compressing digital photographs and other files. Simply Drag and drop your photos into Blubox and they'll be compressed and ready to share in seconds.
Key Features of Blubox:
Save space – compress images by over 80% without sacrificing picture quality
Save time – email full resolution photos up to 20 times faster using Hotmail!
Send securely – protect your pictures when sending over the Internet
Get organised – easily manage your photo collection and store up to 20 times more on your backup devices.
Download Full version of Blubox worth $34.99 absolutely FREE. Enjoy!