Handwriting Calculator is a cool app introduced which showcases Nokia's new handwriting recognition technology. It allows you to calculate handwritten math expressions with a touch-screen Nokia device (and with a Windows PC).
The best part is that it is available for Windows and can be used easily. You need to download the small file and extract it. Then run the file named Handwriting calculator and write your mathematical expression using a mouse. You will see the output in real-time.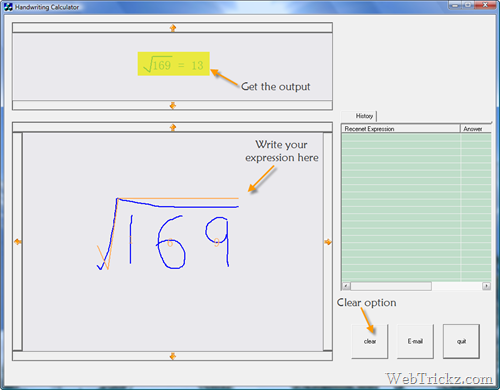 Compatibility and system requirements:
The S60 version is tested on Nokia 5800 XpressMusic and should work on all Nokia touch devices based on S60 5th Edition.
The Maemo version is tested on Nokia N800 and N810, and should work on all Nokia internet tablet devices with OS2008 software.
The PC version is tested on Windows XP SP2 and Vista.
Download Handwriting Calculator
Installer for S60 (e.g. Nokia 5800 XpressMusic)
Download (SIS, 181 kB)
Installer for Maemo (e.g. Nokia N800, N810)
Download (DEB, 175 kB)
Installer for Windows PC
Download (ZIP 175 kB)
It is a very useful tool because it lets you calculate the typical mathematical expressions easily without the need to type anything.