Recently, I told you How to Get Free 90 days license of Norton Internet Security 2010. Now you can grab a Free 90 days license of Norton Antivirus 2010 and Norton 360 Version 3.0/4.0. This is due to an official promotion led by Norton.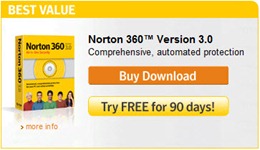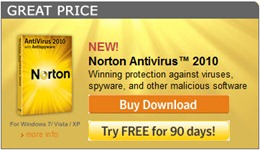 Get Norton 360 and Norton Antivirus 2010 Free for 90 Days
This is an OEM version which does not requires any activation key or registration. Just open the above page and click on 'Try Free for 90 days' button. Now you will get a direct installation file. Just install it and Enjoy!
Norton Antivirus 2010 supports Windows XP, Vista and Windows 7
Update – Use the Direct Download Links below to download Norton 3 months Trial.
Download Norton Antivirus 2010 [Free 90 days OEM Subscription]
Download Norton 360 Version 3.0 [Free 90 days OEM Subscription]
Download Norton 360 Version 4.0 [Free 90 days OEM Subscription]
Update 2 – Free 90 days Trial of Norton AntiVirus 2011 [OEM Installer]