From past few days, I know that ZoneAlarm will giveaway their popular security software 'ZoneAlarm Pro 2010 Firewall' worth $39.95 for Free. This is the best time to share this news because the promotion will be up for grab on October 13 (Tuesday).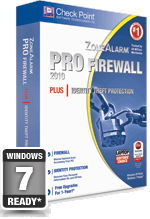 ZoneAlarm Pro has multiple layers of protection:
Makes you invisible to hackers
Scans web downloads and warns if they're dangerous
Monitors your credit bureau reports
Works great with any antivirus or anti-spyware
Promotion Link: http://download.zonealarm.com/bin/free/sum/index.html 
So, get ready to visit their site tomorrow to download your genuine product Free.
UPDATE – ZoneAlarm Pro is available for Free Download now 😀
Important Details of this Promotion:
This offer is valid for 24 hours
(October 13, 2009 6am PST to October 14, 2009 6am PST)
License valid for one year (10/13/09 to 10/14/10)
License valid for up to 3 PCs
This offer is valid for new customers only
Limit one per customer
Also See: Top 6 Free Firewall software for Windows