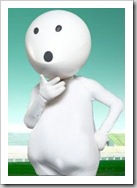 Vodafone new Zoozoos ads are creating a lot of hype all around. They are mainly telecasted while the IPL is going on. These new & funny ads by Vodafone have become too popular and are among the best TV commercials ads watched nowadays.
It is said that the Zoozoo characters, used in many of the new Vodafone ads is not an animation, not a clay figure, but real people in special suits. The zoozoo ads have gathered a lot tweets on twitter and fans on Facebook.
You can grab some of the official zoozoo ads wallpapers and watch its Video below:   
To watch all the official 17 zoozoos videos go to http://www.youtube.com/user/vodafoneipl.
The wallpapers are available in .zip file which containing wallpaper of sizes 800×600 and 1024×768. You can use the ArchView – Firefox addon to preview and download a particular file from .zip files.
There's also a nice video screensaver with sound available for it. Download Screensaver