Windows 8 features a Modern UI (Metro style) and doesn't offer an option to enable the Start Menu as seen in Windows 7 & Vista. There was a registry hack to restore the old start menu in Windows 8 Developer Preview, but that was unfortunately removed from the Beta and Final version of Windows 8. Until now, there was no way to enable the original start menu but the latest beta version of Start8 (by Stardock) introduces the "classic style" start menu option. Those missing the good old start button and menu can now get it back using Start 8, without manually configuring any files or registry editor.
Start8 is a free program that brings the "Start" menu back to Windows 8. This is a must-have app for users who prefer the basic start menu while using Desktop mode on Windows 8. It also allows you to automatically login directly into Windows desktop instead of the Metro UI. This is probably the best start menu replacement out there for Windows 8.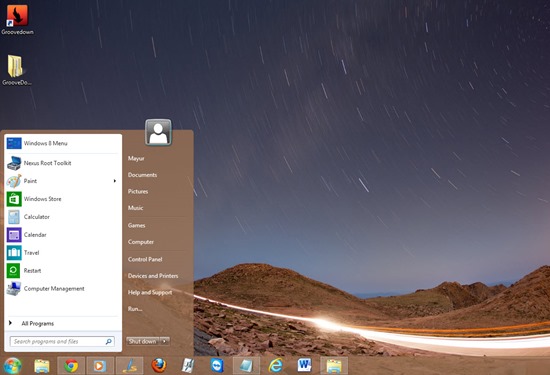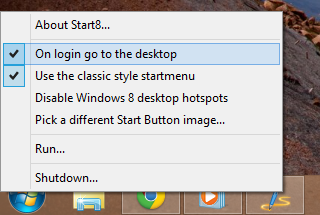 Features:
Adds a classic style "Start" menu to the Windows 8 taskbar.
Includes support for:

View and launch installed applications (including Metro/Modern)
All Programs menu, quick links to commonly accessed folders (Documents, Music, Photos, Computer, and more).

Adds searchable Start menu options for Windows desktop applications, Metro/Modern applications, and documents.
Adds a "Start" button to the Windows 8 taskbar.
Automatically load directly to your Windows desktop on login (vs the start screen).
Pin favorite shortcuts directly to the start menu for easy access.
Includes support for "jump lists"/recent documents for recently accessed programs.
Quickly access Run… option via the start menu or right-click menu.
Quickly access "Shutdown" and power options via the start menu or right-click menu.
Optionally disable Windows 8 desktop hotspots via the right-click menu.
Choose a custom "Start" button image.
Automatically matches the color of your start menu to your taskbar.
Supports WindowFX 5.1 startmenu animations (currently in beta)
Optionally access Metro/Modern start screen in a configurable window without leaving the Explorer desktop. The new start menu also adds a shortcut to switch to the new Windows 8 menu.
Adds control over Start menu size on Explorer desktop.
Sizing options: small, tall, wide, large or fullscreen
Adds option for WinKey to show fullscreen Metro desktop.
Download Start8 [Beta v0.90]