As you know, Windows 7 is creating a lot of hype all around. If you want to transform your old XP look to that of new, cool and shiny looks of Windows 7, then you are at the right place.
I've found a nice transformation pack which can Transform Windows XP look to Windows 7. This is the most recent pack available for Windows XP, created by Windows X live (the makers behind the popular Windows Vista Transformation pack).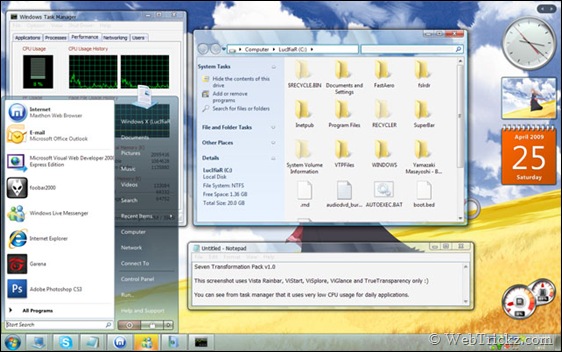 Seven Transformation Pack replaces many of the resources in Windows XP/Windows Server 2003 to transform your entire windows user interface. It includes a Windows 7-themed Boot Screen, Welcome Screen, and Visual Style, as well as new icons, wallpapers, Sounds scheme, System Tray icons and more..
New and Improved 3rd-party applications
ViGlance – Windows 7's Superbar emulation
ViStart – build recompile in native mode increasing its performance with Windows 7 skin
TrueTransparency – Improved stability with version 1.0 plus SevenStyle's skin
Functionalities update
Automatic theme applying – Setup now applies themes automatically without user's interaction after restart
Multi-user Login UI support – Allowing to see user accounts in horizontal view with multiline support
Setup personization – Allowed ViSplore and WinFlip and support load/save configuration
Superbar tweaks – Get Superbar UI with registry tweaks
Download Seven Transformation Pack 1.0  (Size: 20.57MB)