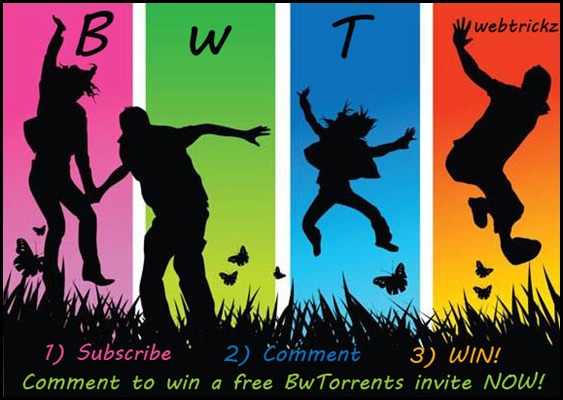 Like always, WebTrickz knows what its readers are looking for. So we are giving away free BwTorrents invites to our loyal readers. To win the invite, the rules are simple:
Subscribe to our RSS Feeds via Email

OR

Follow me @mayurjango on twitter and tweet about this contest. Make sure to leave a comment along with your tweet status.
Make 15 Comments on the blog.
About BwTorrents: BwTorrents is the biggest Indian private torrent site. The free registrations open once in a year. It has the largest collection of Indian Torrents with the quality releases from the Scene. You can be sure about the fast speeds and the great community. BwTorrents, cause "it's all about quality."
Please don't spam (comments should be at least 20 words). You can easily check your comments count using the Top Commentators widget in the sidebar. Happy Commenting :).
Winners till now:
jaiganesh
tathagat
telestagary
Dr.Salman
Krintu
Caspian
wellwish
Mahesh D
Gagan
Jaspreet
Priya
Bobby
sherkhan
lonelytomato
Vinc
Akshay
Harsh
Tanya
Navin
Salman

Chandar
Anuska
Daniyal Muzaffar
Siddhant
Ankur Aggarwal
Naveenpsd
Neo
Nayyer
Suresh_i
Jigar Shah
All the Bwtorrent invite winners are requested to maintain a good ratio (at least 1:1) to protect your account from getting banned.
Update  – This giveaway has now ended as we have no more invites left to offer. Thanks to the various participants.
Update 2  – I've received more invites to offer 😀

Update 3 – Sorry, BWT invites are finished now. I'll invite you later as I receive them.