PDFZilla.com is offering their popular product 'PDFZilla' worth $29.95 for FREE to everyone as a giveaway. You don't need to register or go through any fussy process to get the license, just visit their giveaway page and note down the registration code, then download PDFZilla and activate it to full version.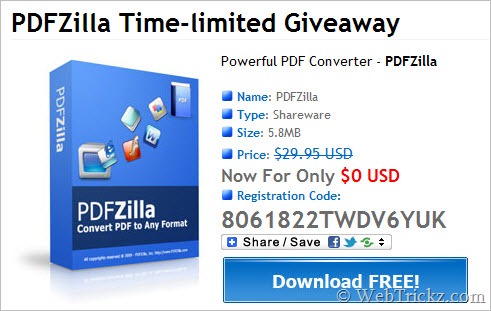 PDFZilla Key Features:
Convert PDF to WordConvert PDF to Word with all text and Graphical data.
Convert PDF to RTFConvert PDF to Rich Text Files. You can edit all text and graphic by Windows Wordpad.
Convert PDF to TXTConvert PDF to plain text files. You can edit text by Notepad.
Convert PDF to ImagesConvert PDF to BMP, JPG, GIF or TIF files.
Convert PDF to HTMLConvert PDF to HTML files and automatically generate the Index file.
Convert PDF to SWFConvert PDF to Shockwave Flash Animation files which can be published on websites.
Page SelectionConvert all the pages, or partial pages of PDF file.
Easy to use softwareAdd a PDF File -> Select the Output File Format -> Click on Start Converting button
NOTE: This PDFZilla Time-limited Giveaway Promotion will be CLOSED on Feb 5th, 2011.
via [LiewCF]