GMAIL, the highly popular email service by Google has now added 2 new features – Invitation and Drag and drop attachments.
The Drag and drop files to Gmail is really handy and time saving. You can now upload files to Gmail messages in an easy way, without opening Attach a file > browse file and then open it. One or multiple files can be uploaded at once.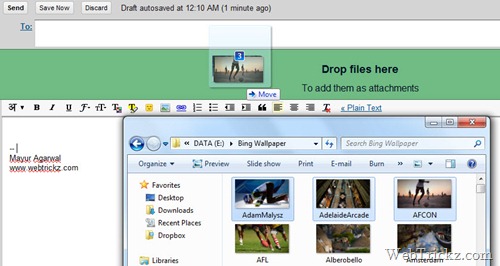 To attach files, just open the desired folder, select the files and 'drag n drop' them to Gmail. Gmail will then show a green box asking to add them as attachments.
Note: Currently, you can drag and drop attachments in Chrome and Firefox only.
The 2nd new feature 'Invitation' brings tighter integration between Gmail and Calendar, making it easier to create Calendar events from within Gmail. When you compose an email message, there's now an "Insert: Invitation" link right under the subject line.
via [Official Gmail Blog]