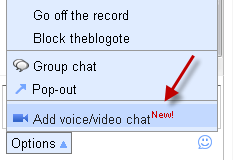 You can now use voice and video capabilities in your Gmail chat. From within Gmail, you can have an actual conversation with someone (seriously, out loud), or even chat face to face over video.
Here's what you'll need to get started:
Download the Gmail voice and video chat plug-in, quit all open browser windows, and install the plug-in.
Sign in to Gmail.
In the Chat section of your Gmail, select the contact you want to call. If they have a camera icon next to their name, you can make a voice or video call to them; just click Video & more.
Install Free Now     [ Windows XP or later ]