Until now, I had been using the Plus One Anything extension on Google Chrome to +1 a webpage while for Firefox, I shared the Plus One Button add-on that does the same task. Timothy Jordan just announced on Google+ that their team has build up a Chrome extension that provides the ability to +1 any page you visit on the web! +1 button is shorthand for "this is pretty cool" or "you should check this out."

Google +1 Button extension for Chrome works much better than the unofficial ones. It is fast, accurate, and shows the +1 counts for a certain webpage. This comes handy in case when you wish to +1 a web page but the site hasn't installed the +1 button yet. You can +1 a page and Undo +1 using its button in Chrome bar from top-right side. One can opt to show +1's to friends, and others to share the best stuff added by them.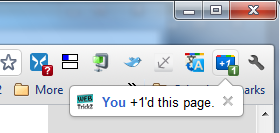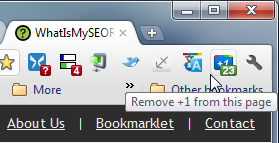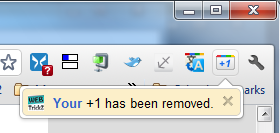 Unfortunately, the extension doesn't yet has the ability to Share on Google+, but they will automatically update it over time. Install it now and wait for other new features.
The +1's made appears in the +1's tab on your Google+ profile. You can choose to show the +1s tab on your profile or disable it to prevent from being seen publicly.
Google +1 Button – Chrome Extension by Google