Google just officially announced that "Games are coming to Google Plus" which was much expected. This is what Vic Gundotra recent post on Google+ says:
With games on Google+, we're focused on giving you control. When you're ready to play, the Games page will show you gameplay updates from your circles, your latest game notifications, and information on what's been played recently. This means your Stream will stay focused on conversations with the people you care about.
They are starting with a small number of fun and interactive games to play on Google+ which will gradually roll out. Google is looking forward to make games available to everyone in the field trial soon. Check Official Google Blog post for more details.
Today we're adding games to Google+. With the Google+ project, we want to bring the nuance and richness of real-life sharing to the web. But sharing is about more than just conversations. The experiences we have together are just as important to our relationships. We want to make playing games online just as fun, and just as meaningful, as playing in real life.
The Games in Google+ can be accessed using the games icon located to right side of circles, when it becomes available. A preview is shown in image below: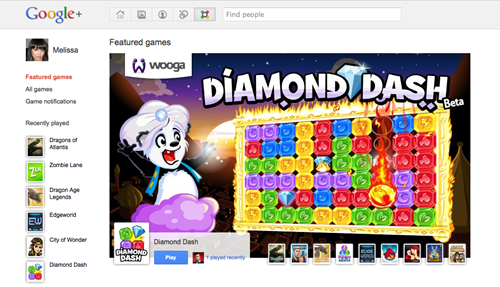 The widely popular game "Angry Birds" available for various devices and platforms is also coming soon to Google's new social platform. In a while, you'd be able to kill those dumb pigs with the chirping birds directly from within Google+ interface.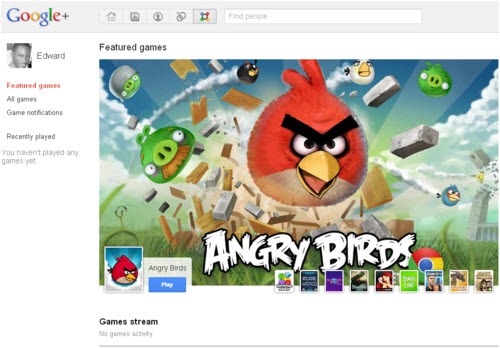 Here is an excerpt of announcement made on official Rovio Blog:
Angry Birds on Google+ is an ongoing HTML 5 project that lets users share game updates with friends, participate in leaderboards, brag about their achievements, unlock special social levels, and invite people to play. Following its successful mobile gaming strategy, Rovio will continually bring in exciting new features based on user feedback.

"Angry Birds for Google+ Games is a great start, but it's just our first step in social gaming," said Mikael Hed, CEO of Rovio. "As our fans know, we constantly look for ways to update and innovate our products. We want to delight our users by going way beyond what they were expecting. Social gaming is going to be massive, and we're very excited about what we have coming up next."
Many other interesting and free games would be hitting Google Plus soon!