Google's Android event scheduled for October 29th was apparently cancelled due to Hurricane Sandy. Surprisingly, without delaying the announcement further Google decided to unveil its new series of Nexus flagship devices through official Android blog. They've announced 3 new Nexus devices – Nexus 4, Nexus 10, Nexus 7 HSPA+, revised pricing for Nexus 7 16GB & 32GB model, and Android 4.2 Jelly Bean.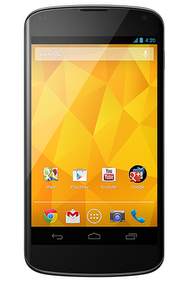 Nexus 4 is a successor of the Samsung Galaxy Nexus, this time developed together by Google and LG. The smartphone looks pretty identical to Galaxy Nexus but features upgraded specifications and some new features. The new device boasts a 1.5GHz quad-core processor, a crisp 4.7" (320 ppi) display with a resolution of 1280×768, 2GB RAM, a 8 megapixel rear camera, Gorilla Glass 2 screen, 2100mAh battery and runs on the new flavour of Jelly Bean, i.e. Android 4.2. Besides that, the phone features Wireless Charging – set the phone down on a charging mat to power it up, without any wires. Android 4.2 Camera app reinvents the photo experience with a new functionality called 'Photo Sphere' that lets you create photos that are richer and more immersive.
Nexus 4 Pricing and Availability – 8GB for $299; 16GB for $349; available unlocked and without a contract on 13th November on the Google Play store in U.S., U.K., Australia, France, Germany, Spain and Canada.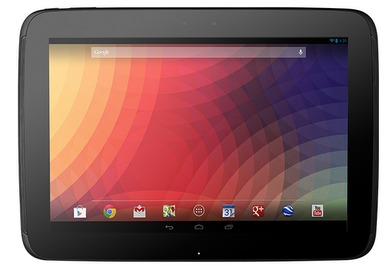 Nexus 10 is a powerful new 10-inch tablet from Google manufactured by Samsung. It is the highest resolution tablet with a 10" display at a resolution of 2560×1600 (300ppi), that's over 4 million pixels. That means text is sharper, HD movies are more vivid and photos look truly clear. The tab is powered by a dual-core A15 processor, runs on Android 4.2, has a 5MP rear camera, 1.9MP front camera, Corning Gorilla Glass 2 screen, 2GB RAM, 16GB storage, Micro HDMI, NFC, GPS, and a massive 9000mAh battery that offers up to 9 hours of video playback and more than 500 hours of standby time. It has a set of front-facing stereo speakers, thus movies sound awesome while watching.
Pricing – 16GB for $399; 32GB for $499; available on 13th November in the Google Play Store in the U.S., U.K., Australia, France, Germany, Spain, Canada and Japan.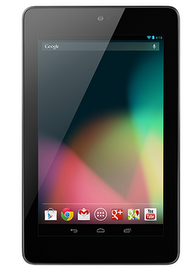 Nexus 7 – With a new revised pricing for Nexus 7, Google has again landed with the most affordable and quality tablet that brings you the best of Google – YouTube, Chrome, Gmail, Maps – and all the great content from Google Play in a portable package that fits perfectly in your hand. 16GB Nexus 7 is now priced at $199 while the 32GB variant is priced at $249.
Those eagerly waiting for a 3G version of Nexus 7 can cheer up now! Google has also announced a new Nexus 7 with HSPA+ that comes with 32GB storage at a pricing of $299 being unlocked. It supports more than 200 GSM providers worldwide, including AT&T and T-Mobile in the US. Available starting November 13th.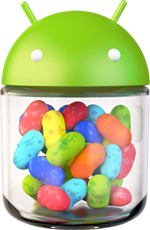 Android 4.2, the new flavour of Jelly Bean introduces:
Amazing Photo Sphere camera – snap pictures in every direction that come together into incredible, immersive photo spheres that put you right inside the scene.

A smarter keyboard, now with Gesture Typing – similar to Sywpe and soon SwiftKey.

Support for multiple users – Give each person their own space. Everyone can have their own homescreen, background, widgets, apps and games – even individual high scores and levels! Available only on tablets.

Support for Wireless Display so you can wirelessly watch movies, YouTube videos and play games right on your Miracast-compatible HDTV.
Check complete list of new features in Android 4.2 here.
Source: Official Android Blog