Google has finally announced their next flagship smartphone, the new Nexus 5 – developed in partnership with LG. Google also announced the launch of Android 4.4 'KitKat' OS, the latest version of Android OS designed to run on low-end phones as well by reducing the memory consumption. LG Nexus 5 is a beautiful smartphone sporting a slimmer and lighter design, but unlike Nexus 4 it has a plastic body with a silky textured finish. The device is powered by 2.3GHz Snapdragon 800 processor, runs on the latest Android 4.4, features a 5" Full HD display at 445 ppi with Gorilla Glass 3, 2GB RAM, 8MP rear camera with optical image stabilization and a 1.3MP front facing camera. The best value for money phone you can buy!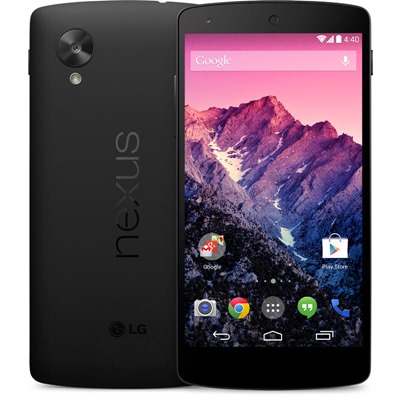 Nexus 5 packs a 2300 mAh non-removable battery and comes in the traditional 16GB and 32GB variants with no support for external storage. It supports wireless charging and connectivity options include Dual-band Wi-Fi, NFC, Bluetooth 4.0, and standard micro USB. The phone weighs just 130 g and is 8.59 mm thin. Available in 2 colors – Black and White.
Pricing and Availability – Nexus 5 is available starting today, unlocked and without a contract, on Google Play in the U.S., Canada, U.K., Australia, France, Germany, Spain, Italy, Japan and Korea, priced at $349 for 16GB and $399 for 32GB version.
Nexus 5 pricing in India – The 16GB variant has been priced at Rs. 28,999 and 32GB variant is priced at Rs. 32,999 in India. That's the official pricing according to Indian play store but there is no confirmation on the device availability yet, as the page says 'Coming soon'.
Android 4.4, KitKat, will be soon available on Nexus 4, Nexus 7, Nexus 10, and the Google Play edition of Samsung Galaxy S4 and HTC One in the coming weeks.
New Nexus 7 coming soon to India –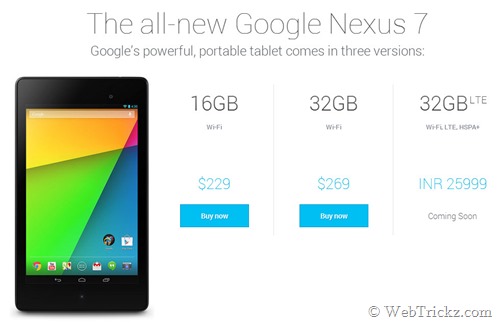 Surprisingly, Google has quietly unveiled the pricing of 2nd generation Nexus 7 tablet, a clear indication that the new Nexus 7 (2013) might be soon launching in India as well. As per the Nexus 7 India device page (google.co.in/nexus/7), the price of Nexus 7 32GB with Wi-Fi and 4G is Rs. 25,999 while US pricing is listed for the 16GB and 32GB Wi-Fi models. This might be a sign that Google is planning to offer only the top variant of Nexus 7 via Play store in India, which is certainly not a good move by them.
UPDATE (Nov 20th) – Surprisingly, the Nexus 5 is now officially available in India at the Google Play Store, just 3 weeks after the initial announcement. The smartphone is 'In Stock', and both the colors (Black and White) and both variants (16GB and 32GB) are available for purchase in India. So, hurry up and order one before it gets sold out! 🙂
Nexus 5 Pricing: 16GB variant for Rs. 28,999 and 32GB for Rs. 32,999 (inclusive of taxes).
Nexus 7 – The new Nexus 7 (2013) is also available for purchase at the Google Play Store in India. [In stock – Buy here]
2013 Nexus 7 Pricing:
16GB Wi-Fi only – Rs. 20,999
32GB Wi-Fi only – Rs. 23,999
32GB Wi-Fi + 3G – Rs. 27,999
Besides that, Official Accessories are also made available for Nexus 5 and Nexus 7 –
Nexus 5 Bumper Case – Priced at Rs. 2,499 and is available in 4 colors – Black, Gray, Bright Red, and Bright Yellow. In stock as of now.
LG QuickCover for Nexus 5 – Priced at Rs. 3,299 and is available in 2 colors – Black and White. Currently listed as Coming soon.
Nexus 7 Sleeve – Priced at Rs. 1999 and is available in 3 colors – Black/Gray, Bright Yellow, and Gray/White. Currently listed as Coming soon.