Back in March, Google officially announced that they'll soon be integrating the +1 button right into their search results, so that users can share recommendations with the world right from Google's search results. Surprisingly, last night I noticed the +1 button live for one of my search query which confirms that Google is experimenting it and is just a step away to roll out +1's, starting in English on Google.com.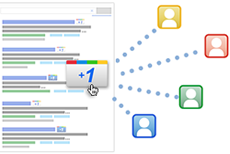 According to Google:
It's called +1 — the digital shorthand for "this is pretty cool." To recommend something, all you have to do is click +1 on a webpage or ad you find useful. These +1's will then start appearing in Google's search results.

Click +1 to publicly give something your stamp of approval. Your +1's can help friends, contacts, and others on the web find the best stuff when they search.
A preview of +1 button in Google Search:

The +1 button appears next to each search result.

After pressing +1 button, you have the option to Undo the action immediately.
To start +1'ing things, you'll need to create a Google profile (Google+) or if you already have one, upgrade it to Google+. To see +1's in your Google search results you must be logged into your Google Account. (Currently not available)
Check +1s done by you: If you're using Google+ already, then you'll find a +1's Tab in your profile where all of your +1's are listed in one place. You can view them and delete those you no longer want to recommend. Likewise, Undo option appears here too.

Video – Intro of +1 Button
It appears that +1 will officially rollout just after Google opens the Google+ doors for everyone. Google aims to provide better and more relevant results by combining and including all the social content in its search. Let's see how it goes. 🙂
P.S. I didn't participated in any experiment, was just lucky to get a sneak peek of it.