Recently, Google released a new version of their toolbar "Google Toolbar 7" for Internet Explorer. The new toolbar offers 'Toolbar Instant', the feature previously introduced in Chrome that brings the speed of Google Instant to IE8 and IE9. It is faster, comes with a clean and fresh look; and is more personalized – showing the most used tools only.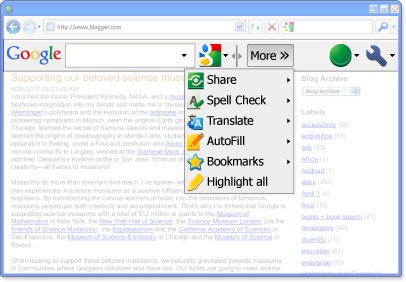 The new Google Toolbar lets you search really fast on Internet Explorer, just type the search term and search predictions & results will appear instantly as you type. You can also translate entire web pages or just a single word, and it offers useful highlighting option too. Do watch the intro video to see what the New toolbar has to offer:
To enable Toolbar Instant, visit Toolbar Options and click "Enable Instant for faster searching and browsing."
It's currently available in English, other supported languages will be added soon.