Google URL Shortener (goo.gl) is a popular URL shortening service by Google, introduced several years back, that lets your shorten lengthy web links and track analytics for them. Goo.gl is now available on Android smartphone and tablet in the form of a dedicated app. The app named "Google URL Shortener", seems an official app released by Google but surprisingly it has been introduced by Thomas Devaux, a private developer.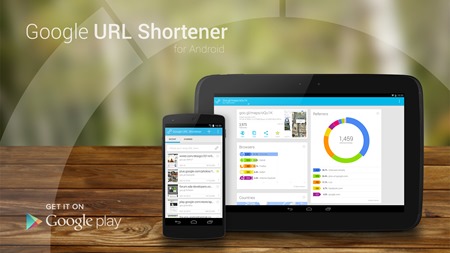 Google URL Shortener is a sleek and useful Android app to shorten long URLs into smaller links, that makes them easy to remember and share across social networks like Twitter. One can even access analytics reports for the shortened URLs, like their raw click counts and distribution across referrers, browsers, OS platforms, and geographical locations. The app features a nice and elegant UI, with colourful reports, and seamless integration. It's so fantastic such that one won't believe the app isn't actually from Google.
To Shorten URLs, you can either copy the URL into the app or share the link directly from your device browser or any app and open it using Google URL Shortener. After shortening, a notification is displayed by default (you can change this action to 'Copy to clipboard' or 'Show dialog' in app settings), from where you can copy the compressed URL, share or open it. All the shortened URLs are shown in the app's interface and you can even favorite them.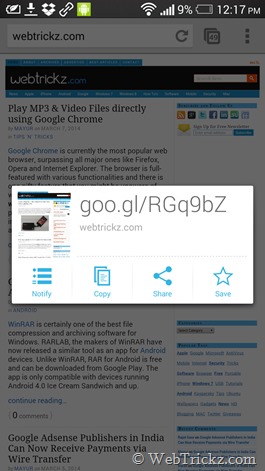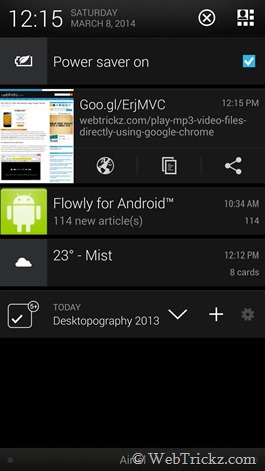 The app displays colorful analytics reports that helps you determine which links got most clicks and other relevant information. One can change time interval for reports shown, share analytics, see the date when the short URL was created, and view starred URLs. As you swipe down, the data gets refresh and syncs with your Google account. You can search for URL by pasting the short URL, access your short URLs history, access data offline, check reports for any other goo.gl short URL, enjoy a clean card UI with thumbnails, maps and charts.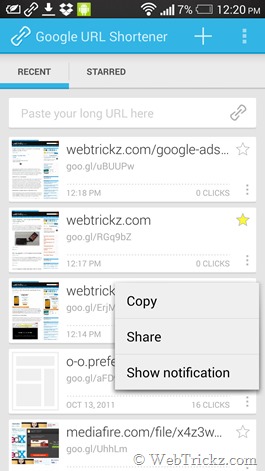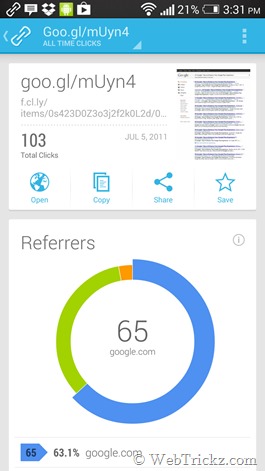 The app is fully optimized for phones, 7″ and 10″ tablets?; thereby the data on tablets is shown in two or three columns card interface. Available as a free download on Google Play for devices running Android 4.0 Ice Cream Sandwich and up.
Do try it out! Google URL Shortener