Grab Free 1 Year License of AVG Anti-Virus 9 worth £26.99
You can now get a 1 Year-1 PC licence code of AVG Anti-Virus 9 absolutely FREE worth £26.99 as per a promotion led by V3.co.uk. The promotion is now online and available between midday CET 31 August and midday CET 1 September 2010. You can obtain your serial code during this period and install the application any time.
To get a free 1 year license, you need to login with your account at v3.co.uk. If you don't have an account, just create one and then go to http://store.v3.co.uk/p1030-avg_anti-virus_9_1_pc_1-year, login and download AVG Anti-Virus 9 build from there.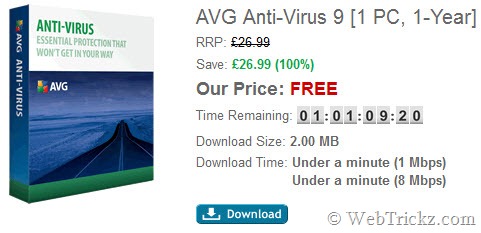 To grab the serial code, go to , enter the username and password of your v3.co.uk account. Now install the antivirus software, activate it to full-version and use it free for 365 days on 1 PC.
Hurry!! Promotion will end soon.