You can now get a 1-year genuine license of Emsisoft Anti-Malware 5.0 for FREE, a popular security product with Anti-Malware + Anti-Virus, which actually costs $40.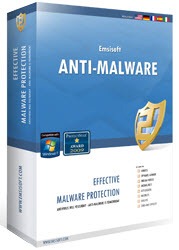 Comprehensive PC protection against viruses, trojans, spyware, adware, worms, bots, keyloggers and rootkits.
2 cleaning scanners in 1: Anti-Virus + Anti-Malware
3 guards against new infections: file guard, behaviour blocker and surf protection
To get a free license of Emsisoft Anti-Malware 5.0, follow the steps below:
1. Visit this promotion page and create a new account.
2. You'll then receive an email for verification. Click the confirmation link given in the email to complete your registration and unlock your account.
3. Login to your account with your account details. Open "Manage Licenses", click "Get license by coupon code", enter the license code given in the email and click convert.
4. Download Emsisoft Anti-Malware and Install it. Log in with the username and password of your Emsisoft account to activate it as full version. Enjoy!
Runs on Windows XP, Vista and 7 in all 32 and 64-bit editions. via [Techno360]
Update – The promotion page is now redirecting to the product page. However, you can use the following proxy sites: http://bramka.proxy.net.pl/ or http://proxy.trash.pl/ to access the page and create your account. Just visit the proxy site and enter the promotion page link there. Thanks, Swarup.