If you're concerned about the security of your Mac, then don't miss one of the best protection software 'Kaspersky Security for Mac', currently available at Facebook Security Marketplace with a free subscription of 6 months or 180 days. You just need a Facebook account to get your free 6 months Kaspersky license in a few clicks.
Kaspersky Security for Mac delivers enhanced, real-time protection against viruses, Trojans, spyware, phishing attempts, dangerous websites, and more. Stay protected from phishing attacks and malicious websites, protect your identity using Virtual Keyboard, and keep your kids protected with advanced parental controls.
Features:
Real-time protection against Mac and PC malware

Advanced protection using traditional and cloud-based technologies.

NEW! Protection against phishing and malicious websites

Before you open a website, Kaspersky Security for Mac checks the website against a database of phishing sites, dangerous URLs, and looks for malicious code on the site.

NEW! Parental Controls

Allows monitoring and limiting of children's Internet usage, block access to inappropriate sites, and prevents private data such as phone and credit card numbers from being shared.

NEW! Virtual Keyboard

On-screen keyboard you use with a mouse; data you type can't be tracked or stolen by key loggers, hackers, or identity thieves
Steps to Get Kaspersky Security for Mac Free 6 Months License –
1. Visit Facebook Security AV Marketplace. (Login into Facebook if not already)
2. Under 'Mac' section, scroll down, click 'Learn More' for Kaspersky Security for Mac.
3. Click 'Like' to enable the 'Download Now' button. Then click on download now.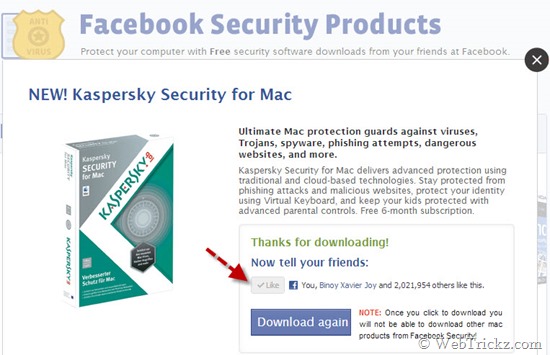 4. A new webpage 'Kaspersky Facebook Offer' will now open up. Just enter your email address and click on "Submit." You will then receive an email with your 6-months trial activation code and installation instructions for Kaspersky Security.
5. Download the program from link provided in email. Then install it.
IMPORTANT:  During activation, DO NOT click "Try" (If you select "Try", you will only receive a 30-day trial and you will not be able to activate the 6-month trial.) Click on 'Activate' and enter the license key.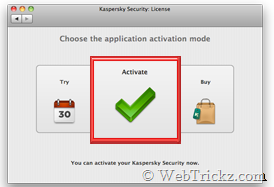 Note: It only works for users who have not used a trial version of Kaspersky earlier.
Though the promo says that the offer is only available in the US, Canada, UK, Ireland, Australia, and New Zealand. But we were able to successfully grab the license in India without using any proxy site or VPN. 🙂