Recently, we shared 3-months trial of the most renowned security products – Kaspersky Internet Security 2012 and Norton AntiVirus 2012. Another promo is going on which can easily provide you a Free 3 months license of Kaspersky Anti-Virus 2012 (KAV 2012), a powerful, fast and efficient security solution for Windows.
Kaspersky Anti-Virus 2012 is the backbone of your PC's security system, delivering real-time protection from the latest malware and viruses. It offers a number of new and improved features together with unique protection technologies to address the latest online threats, intelligent scanning, small frequent updates, keeps your PC running smoothly and you can easily customize protection according to your activities.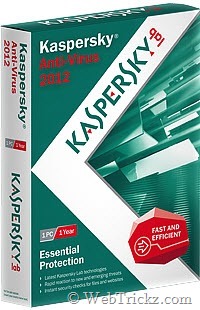 Key Features:
Real-time protection against viruses and spyware
Scanning of websites and emails for malicious code
Protection for your digital identity at all times
Vulnerability scan and treatment advice
Easy-access Desktop gadget
Rescue CD disinfects the system after malware attacks
Advanced antimalware technologies even allows installation on infected PCs
Heuristics-based analysis monitors, restricts and blocks suspicious program behavior
To get the 90 days license of Kaspersky Anti-Virus 2012, you don't need to register! Just download the Spanish installer of KAV 2012 and use the below license code to activate your copy.
Code: NUS4T-GKF2R-17SCB-4CKPN (from Spanish installer)
Fortunately, the above license key also works with English version of KAV 2012. Download KAV 2012 English version and install it. Then activate it Free for 90 days using the above license code. (There is a chance that you can't use this code if you've already activated the trial version of KAV 2012.)
via [TechGravy]