IObit is offering a free license of Game Booster Premium (original priced $19.95) to everyone as a giveaway, to celebrate the release of Game Booster 2. This giveaway will last for an entire week (Feb 21 – Feb 27). Grab your free license now!
Game Booster Premium is a powerful program that greatly improves computer performance for gamers to enjoy better gaming experience. It is capable of delivering the best gaming experience to you even if you have an old PC. One-click to boost PC performance is not enough, Game Booster Premium also allows you to tweak your system for top PC performance. By temporarily shutting background processes and unnecessary Windows services, cleaning RAM, and intensifying processor performance, Game Booster Premium concentrates every little system resource for gaming only.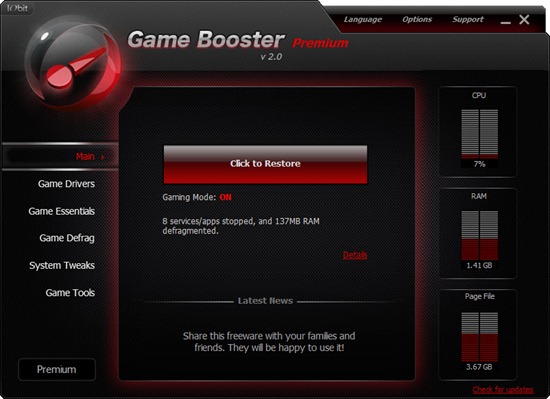 Operating System: Designed for Windows 7, Vista, XP and 2000
How to get a Free license: Users who want to get the free license code just need to follow the steps given at the Giveaway page. In one word, simply "share the news (Game Booster Giveaway) on your Facebook wall".