GreenPois0n iOS 4.1 Jailbreak released for iPhone 4, iPhone 3GS, iPod touch 3G/4G, iPad
Finally, Greenpois0n is released by the Chronic Dev Team and is available for download for Windows, Mac version coming soon. The greenpois0n jailbreaking tool was previously confirmed to be released on October 10 but was delayed due to some issues.
Greenpois0n works with iPhone 4, iPhone 3G S, iPad, iPod touch 4, iPod touch 3G and will soon support the new AppleTV. Also, greenpois0n is an untethered jailbreak for devices running iOS 4.1. Mac version & iPod touch 2G support coming soon.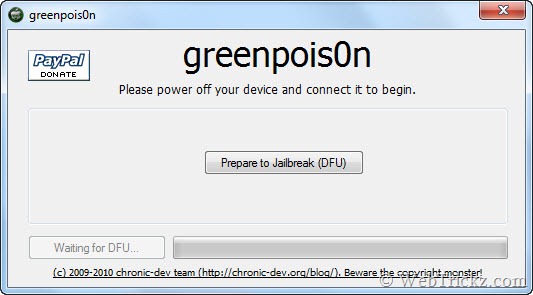 Thanks to geohot for the bootrom USB exploit. We have opted to use that instead of SHAtter for the sake of exploit presevation.

This release of greenpois0n supports:
– iPhone 4
– iPhone 3G S
– iPod touch (4th Generation)
– iPod touch (3rd Generation)
– iPad

Soon there will be another release, adding things like support for:
– Apple TV (2nd Generation)
– iPod touch (2nd Generation)