The YU Yureka is currently one of the top-selling phones in the sub-10k price segment, available exclusively on Amazon.in at a price of Rs. 8,999. As stated in our detailed review, Cyanogen OS 11 plays a major role in delivering impressive performance on Yureka, combined with its powerful hardware. YU recently hinted at the Lollipop update for Yureka that is speculated to roll out by 26th March. Perhaps, if you got a chance to use a Xiaomi phone that comes with MIUI ROM then you might want to have it on your Yureka as well. Luckily, that's possible now! A recognized XDA Developers forum contributor 'suhas.holla' has managed to port MIUI on Yureka and the ROM uses Yureka's stock kernel as a source.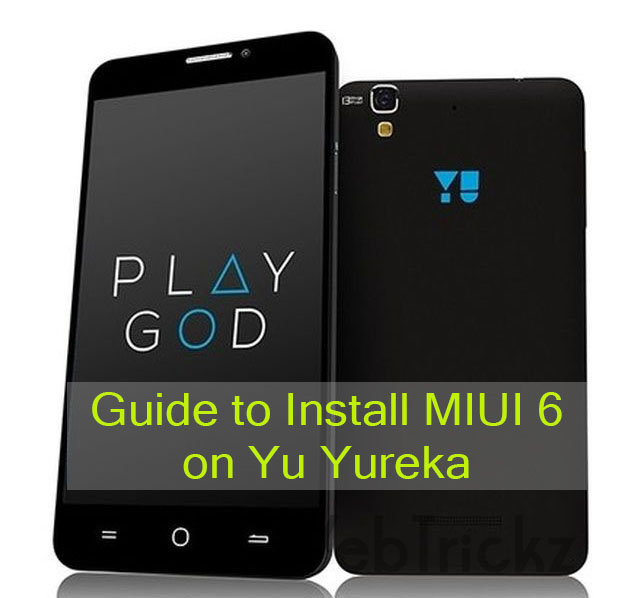 MIUI 6 for Yureka (based on Android 4.4.4) is a highly stable ROM packing tons of impressive features, customization options, and a beautiful user interface. If you're bored with your current Yureka OS and want to try something entirely different, then you must definitely give it a try out to MIUI ROM.
In this step-by-step guide, we will cover the steps on How to Unlock the Bootloader, Install Custom Recovery, and then Install a custom MIUI ROM on Yureka.
Disclaimer: Try this guide at your own risk! We won't be responsible in case your device gets bricked. This may also void your warranty.
Some known issues –
No FM radio
No On-screen buttons
No double-tap to wake
Iso settings force close the camera
Requirements –
Unlocked Bootloader
CWM Recovery
NOTE – This procedure won't delete your media such as files, photos, music, etc. All other settings, apps, and data will be deleted. It's recommended to backup your important data.
Guide to Flash MIUI v6 Custom ROM on YU Yureka
Step 1 – Make sure your Yureka bootloader is unlocked. Refer to our guide: How to Unlock YU Yureka Bootloader on Windows
Step 2 – Install CWM Recovery on Yureka. Download CWM v6.0.5.1 for YU Yureka and refer to the steps stated in this guide to install it.
Step 3 – Download MIUI V6 5.3.6 for Yureka (With Playstore and Core Google apps). Then transfer the file "MIUIv6_yureka_5.3.6_v6_4.4.zip" to the root directory of the phone's internal storage.
Step 4 –  Boot Yureka into CWM recovery. To do so, power off the phone. Then press the Volume Up + Volume Down and Power button simultaneously.
Step 5 – Create a Nandroid Backup of Yureka's current ROM. This step is optional but it's highly recommended to take a backup in case you want to restore the Cyanogen 11 ROM back to Yureka.
To do so, go to 'backup and restore' and select the 'backup to /sdcard' option. (Use volume buttons to navigate and power to make a selection). This will save the backup to your internal storage. Alternatively, if you want to save the backup to your external storage (SD card) then choose the 'backup to /storage/sdcard1' option instead.
Step 6 – Installing MIUI 6 ROM –
Go to 'wipe data/factory reset' and wipe all user data.
Then go to 'mounts and storage' and Mount ONLY the /system and /storage/sdcard1. The menu should look like this:
mount /system
unmount /data
unmount /cache
unmount /persist
unmount /firmware
mount /storage/sdcard1
Then Format /system
Go to 'install zip' > 'choose zip from /sdcard' > 0/ > select the ROM file 'MIUIv6_yureka_5.3.6_v6_4.4.zip' and install it.
After installation is completed, Reboot your phone by selecting 'reboot system now'. (Choose No when it asks to fix root permission and to root the device.)
That's it! Enjoy MIUI on your Yureka. 🙂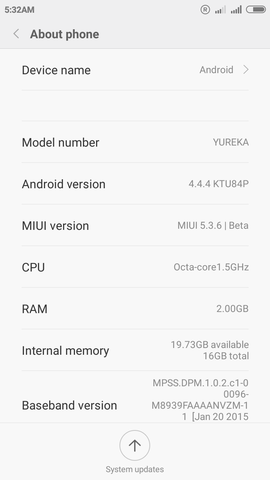 You DON'T need to separately install the Gapps package as the Play store and core Google apps are already included in this ROM. You can simply download other Google applications from the Play store.
Credits: suhas.holla (XDA Developers Forum)