In the past, we've shared several free utilities for Windows and Mac to wipe or delete data securely which includes all your confidential and private stuff. Big Angry Dog has released a new freeware 'Hardwipe' that allows users to permanently delete any desired contents from their hard drive to prevent the disposed data from being recovered ever.
Hardwipe is a 100% free program for Windows that offers various advanced features and options than just letting you securely wipe the data from your computer. It boasts a modern and easy-to-use interface, specially designed for Windows 7. With Hardwipe, one can wipe individual or multiple files, folders, an entire drive or partition. Additionally, it offers the ability to quickly Clean Free Drive Space to prevent anyone from recovering the old wiped data. It does so by overwriting the contents of previously deleted files. During Clean Space operation, the data presently stored on drive will not be wiped.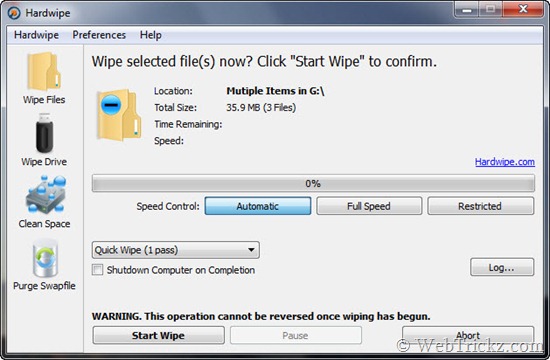 Hardwipe intelligently controls the disk writing speed for lengthy operations. When the 'Speed Control' is set to Automatic, it restricts disk writing considering the computer is being actively used, but increases it to maximum on being idle. You can always select "Full Speed" or "Restricted" from the main window to manually control the speed.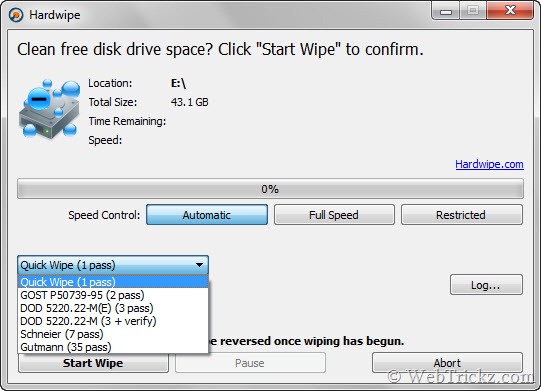 It integrates with Windows explorer that comes handy as you can quickly wipe files from right-click content menu. One can wipe a single file, multiple files or a folder simply by right-clicking. This is also possible for hard disk drives that can be wiped or cleaned.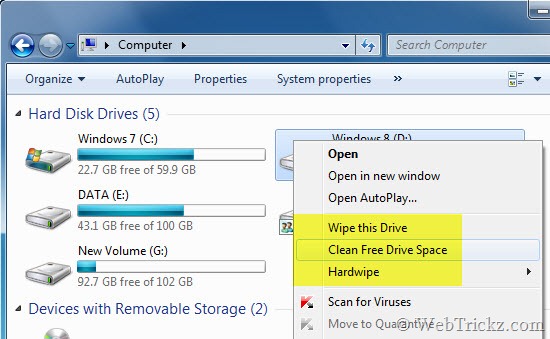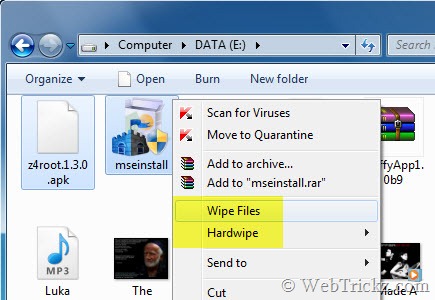 Shell integration is disabled by default. To enable it, just open Hardwipe and go to Preferences > Options. Then select 'Show Hardwipe Menus' option and hit OK.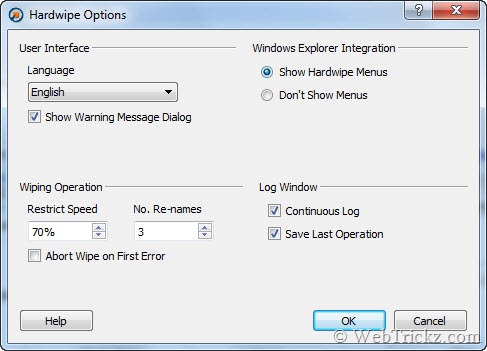 Key Features:
Erases files by overwriting their contents prior to deletion.
Integrates with Windows Explorer
Supports major overwriting schemes, including: GOST P50739-95, DOD 5220.22-M, Schneier & Gutmann.
Can even purge the Swapfile used by Windows (not available yet)
Intelligent use of disk cache so that your computer remains responsive when cleaning entire drives
Hardwipe can shutdown your computer automatically when finished 
Download Hardwipe  [Supports Windows 7, Vista, XP]