Hornil StylePix is a new and free, image and photo editor with a clean & easy to use user interface. It is around 2 MB in size and has a portable version too. Though, the application is pretty small but is engrossed with powerful image editing features and can be used as a free alternative to Adobe Photoshop.
Hornil StylePix is a lightweight graphics editing program that allows you to draw pictures, edit photos and more. With StylePix you can: Draw pictures, Resize photos, Rotate photos, Color Correction, Type text on the photo, Synthesis photos, Cut, copy and paste photos, Crop photos, Sharpen/Blur photos, Remove red-eye, Remove dust, etc.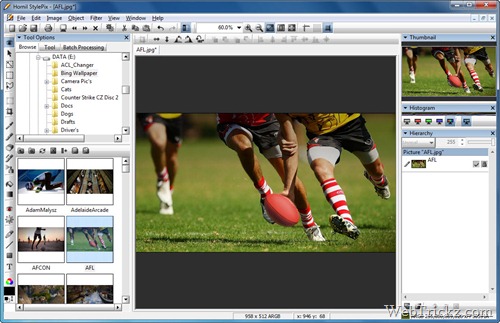 Features:
Multi-layer & grouping support
Selection tools – Object selection and region selection.
30 kinds of practical image filter
Drawing tools – Supports various drawing tools like Brush, eraser, line, curve, spray, clone-brush, flood fill, gradient fill, path, and shape.
Transform and alignment tools
Enhance and restore tools
Multilevel undo, redo and action list
Batch Processing
StylePix supports 53 languages.
For more details, click here.
Supported OS: Microsoft Windows XP/Vista/7/2000/2003
Download Hornil StylePix Free  [Portable version also available]