HostGator is the hosting service which we are using to power WebTrickz. Here is some good news for all Hostgator customers, as they've now introduced "QuickInstall" which is their new in house developed script installer, currently in BETA.
QuickInstall is a HostGator designed auto installer, similar to Fantastico, that allows you to install common scripts in just a few clicks! All programming for QuickInstall and the software library for QuickInstall is in house, which means faster updates and more flexibility. Most functionality is in place, but there may be bugs.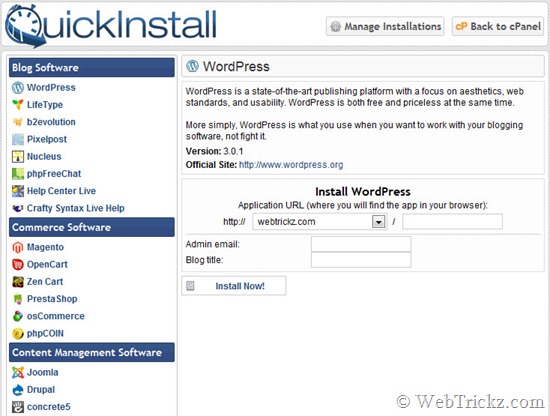 With QuickInstall, webmasters with shared, VPS and dedicated hosting on Hostgator can simply install all the common scripts. These mainly include: Blogging software like WordPress, Commerce software, Content Management software (Joomla, Drupal, MODx, etc.), Forum software (phpBB, bbPress), and many other software & scripts.
For example: When WordPress 3.0 was released, it was updated and ready to be installed in our software library within a few hours compared to days with Fantastico.  No longer do you have to wait weeks to get the latest versions, with QuickInstall you will have almost instant updates available at your fingertips!
To use QuickInstall, just login to your cPanel and click the 'QuickInstall' icon located under the Software/Services box.
Note: QuickInstall has been rolled out to HostGator shared servers at this time. If you are on their dedicated servers or have your own VPS at HostGator and want QuickInstall, just submit a ticket at . One of their Administrators will install it for you, free of charge.