Windows Live Essentials Beta Suite Released

Windows Live Essentials Beta is released today which suppose to complete windows live experience. Windows Live Essentials Beta has added many new services.
Firefox 3 Beta 2 Released
Firefox 3.1 Beta 2 is available in over 50 languages as a public preview release intended for developer testing and community feedback. It includes new features.
The Firefox 3.1 Beta 2 is a free download for all platforms.
Microsoft SQL Server 2005 SP3 Released
Service Pack 3 for Microsoft SQL Server 2005 is now available. SQL Server 2005 service packs are cumulative, and this service pack upgrades all service levels of SQL Server 2005 to SP3.
Download Microsoft SQL Server 2005 SP3
Digsby

Digsby is a multiprotocol IM client that lets you chat with all your friends on AIM, MSN, Yahoo, ICQ, Google Talk, and Jabber with one simple to manage buddy list.
It is an email notification tool that alerts you of new email and lets you perform actions such as 'Delete' or 'Report Spam' with just one click. It is like a social networking tool that alerts you of events like new messages and gives you a live Newsfeed of what your friends are up to.
Beautiful Christmas Wallpapers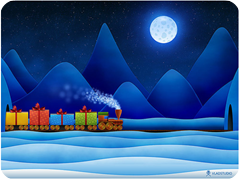 Previously, I shared a post on Beautiful Merry Christmas HD Wallpapers & 8 MP3 Mix Songs …
but now here are some more beautiful Christmas and Winter Wallpapers for all my Readers.
30 Remarkable Christmas Wallpapers, Part II
Winter and Christmas Wallpapers
Do share them with all your friends and enjoy your X'Mas
Opera 9.63 Update Released
Opera has released an update to its browser making its version 9.63. The update is available when checking the Help > Check For Updates option from within Opera. It can also be downloaded from the Opera website for all supported operating systems including Microsoft Windows, Apple Macintosh, Linux.
Here is the list of security issues that have been fixed in Opera 9.63
ZoneAlarm Free 8.0.065
ZoneAlarm is probably the most well-known of firewalls, partly because it's free for personal use, but also because it's effective and very simple to use. This latest version now works with Windows Vista.
Wikipedia Launches Mobile Version
The online encyclopedia Wikipedia has finally released a mobile-friendly version of the web site at mobile.wikipedia.org. The site offers a trimmed down version of Wikipedia proper, supports 14 languages, and even has a mysterious Spoken Wikipedia setting that—though currently not enabled, may one day read Wikipedia articles for you.
Mac OS X 10.5.6 Update Update

Mac OS X 10.5.6 update is now available, and promises improved reliability and stability throughout. Listed as a 190MB download (on my MacBook Pro at least), here's the full rundown of what you get in 10.5.6  [ via ]
Get EASEUS Partition Manager Professional Edition FREE Worth $31.96
Previously, I told you about "EASEUS Partition Manager Home Edition" which allows you to easily create, delete, resize, move disk partitions.
But now you can get the Professional Edition of EASEUS Partition Manager worth $31.96 absolutely FREE from AskVG.