How to Access Developer options on Android 4.2 & Nexus 4
Recently, Google announced 3 new Nexus devices along with Android 4.2, a new flavour of Jelly Bean. Android 4.2 comes pre-loaded on LG Nexus 4 and offers a variety of new features like Photo Sphere camera (capture 360-degree panoramic photos), smarter keyboard with Gesture Typing, enhanced Google Now, quick settings, support for wireless display, and much more. But one really important thing missing from Android 4.2 are the developer settings. Really? No, developer options still exist in Android 4.2 but Google rather decided to hide them from the Settings and disable them by default.
The reason behind this move seems that Google is now targeting the basic consumers who generally don't need the developer options and perhaps can easily mess up their phone if they fiddle with dev settings. However, one can easily enable the developer options on the Google Nexus 4 and phones running Android 4.2, which you certainly want to do in order to turn on USB Debugging, a commonly used option.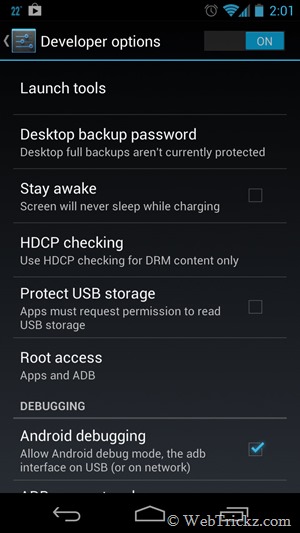 To Enable Developer Settings in Android 4.2 and LG Nexus 4, go to settings > About phone. Scroll down to the bottom and start tapping the 'Build number'. You need to tap the build number 7 times to unlock the developer options. Now move back to settings and find the developer options under the System tab. Video below:
Tip Credit: Android Central